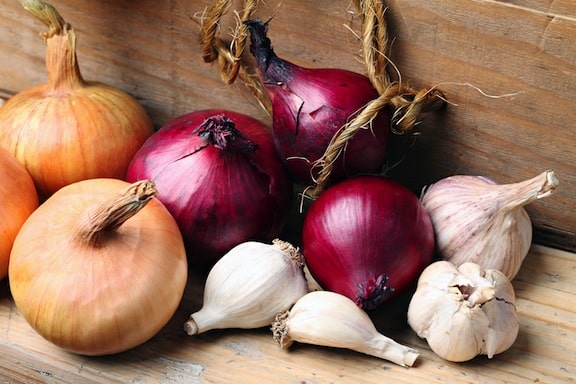 Image courtesy: VegKitchen
Akshaya Patra Foundation, a NGO linked with religious organization ISKCON, has been involved in Mid-day Meals (MDM) scheme in Karnataka since its inception in 2002-03. Currently it is supplying food across five districts in Karnataka: Bengaluru (Urban), Mysuru, Dakshin Kannada, Bellary and Dharwad.  All non-governmental organizations involved in providing food as part of MDM are required to enter into a Memorandum of Understanding (MoU) with the Zilla Panchayath which determines the term of the contract. In Bengaluru Urban district, no such MoU has been signed for the years 2017-18 and 2018-19 since Akshaya Patra Foundation has refused to comply with terms of the MoU which require them to use onion and garlic while preparing the meals (saambhar). Thus, for almost two-years contract a non-governmental organization has been allowed to supply food to children in schools and payments are being released without any formal agreement. So even if Akshaya Patra doesn't adhere to any quality or quantity standards required as per the guidelines under the scheme, in absence of a formal agreement, government would not be able to hold them liable for violating these guidelines. The last year for which Akshaya Patra signed an MoU with Bengaluru Urban Zilla Panchayath was 2016-17. Clause 9, of the MoU, formalizing the guidelines issued by Department of Education (GoK) mandates usage of onion for preparation of saambhar on all six days. Clearly, Akshaya Patra had violated this Clause of the MoU during the period of the contract. Clause 10, requires Akshaya Patra Foundation to provide hot milk to school children under Ksheera Bhagya but in a recent meeting of the Food Commission held on 27.11.2018, the Commission noted that "School children are unable to drink the cold milk supplied by Akshaya Patra". Ksheera Bhagya began in 2013-14 and has been running in its fifth year now. For five years, Akshaya Patra Foundation has been violating these stipulations. All this while Akshaya Patra Foundation has been allowed to get away with these violations.
The violations of these norms, isn't just a legal issue also. They undermine the nutritional objectives of the Mid-day meal programme. Research conducted by Central Food Technological Research Institute
(CFTRI), Mysuru, the absorption of Zinc and Iron from cooked food is higher in presence of onion and garlic.[1] This assumes significance given that the bio-availability of iron and zinc from plant foods is usually very low. Iron deficiency leads to anemia which in turn leads to multiple health related complications such as low birth weight, failure to thrive, post-partum hemorrhage, maternal and child mortality, chronic fatigue syndrome and in more severe cases cardiac failure and death. In India, the largest cause of iron deficiency is nutritional. National Family Heath Survey-IV (2015-16) showed that across India 58.6% of children in the age group of 6 – 59 months are anemic (Hb less than 11 gms/dl) while 50.4% of pregnant women were found to be anemic. In Karnataka, the respective figures were 60.9% and 45.4%. Provision of Mid-day meal at school can positively help in alleviating these nutritional deficiencies. Similarly, Zinc deficiency can cause diarrhoea, loss of appetite, reduced immunity, reduced interest and excessive hair loss. Diarrhoea especially, is one of the contributors to mortality in children and can also lead to a vicious cycle of malnutrition. National Family Health Survey-IV had found that, two-weeks before the survey, 9.2% children (below 5 years) reported having  spells of diarrhoea across India while 5% children (below 5 years) in Karnataka reported having  diarrhoea in the two-week period before the survey. It is therefore important that proven ways of increasing absorption of iron and zinc are encouraged by policy makers rather than catering to religious diktats which attribute negative value to onions and garlic. The violations by Akshaya Patra Foundation of stipulated guidelines and terms of Memorandum of Understanding has high nutritional consequences for the children studying in the school. All these facts have been known to the officials all along, but Akshaya Patra Foundation has been allowed to get away. A perception has been created that Akshaya Patra is providing these meals free or at highly subsidized rates but a look at the financial statements submitted by Akshaya Patra Foundation for FY 2017-18 for its Bangalore branch shows that it was paid over 21 crores in cash subsidies apart from grant in the form of grains. Additionally, it received 9.54 crores in donation in India and 4.84 crores from abroad. A contracting agency, earning crores from the government as part of a scheme which caters to nutritional health of children cannot be allowed to violate guidelines with impunity and undermine the nutritional health of children, just because its own private religious beliefs are at variance with the guidelines based on scientific evidence. The onus is on the government to put children's future above all other considerations.
[1] Gautam, Smita, Kalpana Platel, and Krishnapura Srinivasan. "Higher bioaccessibility of iron and zinc from food grains in the presence of garlic and onion." Journal of agricultural and food chemistry 58.14 (2010): 8426-8429.
Note prepared by Siddharth KJ